I have some rosemary growing in my yard and love how it looks and smells but somehow I just don't use it enough. Found some great recipes for things to make and meals to cook. Out here in CA. it grows like a weed. We have upright and trailing rosemary. The trailing looks good over a wall or in a raised bed and the upright can practically become a small tree but both can be used the same. What I like about the upright tho is once you strip the leaves from it the hard woody stems can be used like kabob skewers, adding more flavor to your meal.
ROSEMARY

Rosmarinus officinalis
Lamiaceae (Mint family, formerly Labiatae)
Rosemary is a perennial evergreen with an ash-colored scaly bark and ½- to 1½-inch long green needlelike leaves growing in an opposite pattern. Most varieties have leaves that are deep glossy green on top and light grayish green underneath. The leaves have a wonderful piney fragrance. It has tiny blue, white or pink hooded flowers that grow in clusters of two to three per branch. The upright varieties grow as a shrub to be up to 5-feet tall and 2- to 3-feet across. The prostrate varieties grow to 2-feet tall and 2- to 3-feet across, and can be used as ground cover.
They are fairly slow growing plants that can be propagated from seed, cuttings or ground layering; the latter two methods being much preferable to the first. Rosemaries prefer full sun or mottled shade. They like a well-drained, slightly alkaline soil. While they do like good drainage, they are fairly sensitive to a lack of water. They prefer to be watered lightly, but often. They have fine, shallow root systems that will rot if kept too wet. They are fairly tolerant of winter weather. They'll withstand most freezes, particularly if they've been heavily mulched and covered. The safest location is at the base of a south-facing wall in a spot protected from cold northern winds. In general, upright varieties are more cold-tolerant than the prostrate varieties.
Harvesting and Uses Harvesting can be done year round. As with most herbs, rosemary thrives from frequent "haircuts," but be careful not to remove more than about 20% of the plant in any one clipping session. The leaves can be dried by hanging in bunches or by layering on paper towels in a shady well-ventilated area. However, because rosemary is an evergreen perennial, there's little motivation for preserving the leaves for later use.
Rosemary can be used in the bath to refresh and stimulate a weary body. A volatile oil in rosemary gets the blood flowing under the skin. Make a strong tea from the leaves and add it to the bath water. Rosemary can also be used as a hair rinse for brunettes. A rosemary rinse will brighten your hair. A rinse is made by steeping a sprig of rosemary in 1 cup of boiling water for 5 to 10 minutes. Use the rinse after shampooing.
A few of rosemary's medicinal properties have been confirmed. The flowers and leaves contain a volatile oil responsible for the plant's pharmacological properties. The oil is an ingredient in rubefacient liniments (to stimulate blow flow beneath the skin) and has been used in combination with other drugs as a carminative. It is officially listed in the U.S. Pharmacopoeia.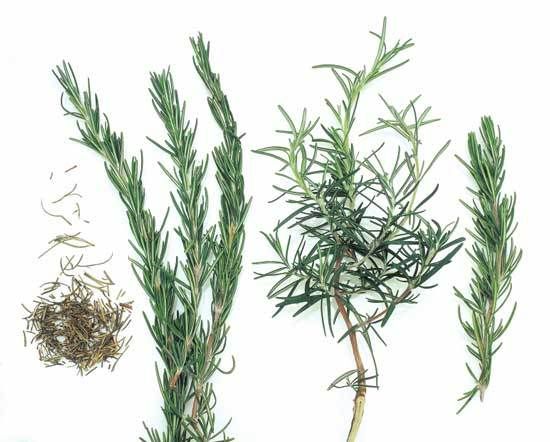 Rosemary is an excellent culinary herb in sweet or savory applications. It's a fine complement to meats or vegetables, and is wonderful in lemon-y beverages and desserts. Varieties popular in the kitchen are those with lower levels of the component oils pinene and camphor. Its flavor harmonizes well with tomatoes, spinach, peas, mushrooms, squash, cheese, eggs, lentils, and complements the herbs chives, thyme, chervil, thyme, chervil, parsley, and bay in recipes.
History and Folklore
Rosemary is shrouded in history and folklore. Probably the most well-known of the herb's legends is that while fleeing Herod's troops, the Virgin Mary draped her cloak over a bush of white-blooming rosemary. When she removed her cloak from the bush, the blooms had taken on the blue color from her garment.
In the Middle Ages, rosemary was thought to possess the power to protect against evil spirits. Sprigs were placed under the pillow to ward off demons and prevent bad dreams.
Rosemary is known as the herb of remembrance, friendship and love. Shakespeare's Ophelia says, "There's rosemary, that's for remembrance; pray you, love, remember." St. Thomas More said of rosemary, "I let it run all over my garden wall, not only because my bees love it, but because 'tis the herb sacred to remembrance, and therefore to friendship..." At one time rosemary was almost always woven into brides' bouquets. At funerals, fresh sprigs were tossed into the grave as a sign that the departed would not be forgotten. Even today, rosemary is offered as a symbol of love, friendship and remembrance.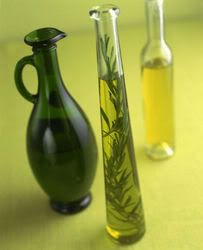 Slow Cooker Rosemary or Basil Infused Oil

1 C mild olive or vegetable oil
1/4 C packed chopped fresh rosemary leaves OR 1/3 to 1/2 C packed roughly chopped fresh basil leaves
Yield: 1 Cup Cooking Time: 1 1/2 to 2 hours Slow Cooker Size: 4 Quart
Place the oil and the rosemary (or basil) in the insert of the slow cooker. Cook on high, uncovered, for 1 1/2 to 2 hours, then turn the cooker off.
Allow the oil to cool for about 20 minutes, and then pour it through a sieve lined with a clean paper towel or paper coffee filter into a metal bowl. When the oil is completely cool, transfer it to a clean glass jar, cover and refrigerate for up to 1 month; after that the flavor may fade. The oil may cloud under refrigeration, but it will become clear again at room temperature.
Rosemary-infused oil can be used for stirring into soup, for drizzling on pasta and vegetables, and for dipping with good Italian bread. It can be made on the stovetop, but its hard to keep the oil in a small saucepan from getting too hot too fast. The finished infusion is a lovely pale green, and your kitchen will smell like Provence.
Nutty Rosemary Bread
2 (.25 ounce) packages active dry yeast
2 1/2 cups warm water (110 degrees to 115 degrees F), divided
3/4 cup whole wheat flour
1/4 cup canola oil
1/4 cup honey
3 tablespoons cornmeal
1 tablespoon dried rosemary, crushed
1 teaspoon salt
5 cups bread flour
1 cup chopped pecans
1 egg, beaten
In a large mixing bowl, dissolve yeast in 1/2 cup warm water. Add the whole wheat flour, oil, honey, cornmeal, rosemary, salt, 1 cup bread flour and remaining water. Beat until smooth. Stir in enough remaining bread flour to form a soft dough. Turn onto a floured surface; add pecans. Knead until smooth and elastic, about 6-8 minutes. Place in a bowl coated with nonstick cooking spray, turning once to coat top. Cover and let rise in a warm place until doubled, about 1 hour. Punch dough down. Divide in half; shape into two loaves. Place in two 9-in. x 5-in. x 3-in. loaf pans coated with nonstick cooking spray. Cover and let rise until doubled, about 30 minutes. Brush egg over loaves. Bake at 350 degrees F for 35-40 minutes or until bread sounds hollow when tapped. Remove from pans to wire racks.
Red Onion-Rosemary Jam

Spread this on your next bagel or biscuit. This also makes a good marinade for chicken or beef.
7 cups red onions, sliced thin
¾ cup red wine vinegar
1 tbls. olive oil
3 ½ cups sugar
1 package Sure-Jell Light
¼ tsp. dried thyme
¼ tsp. ground white pepper
½ tsp. dried rosemary, crumbled
Sauté onions in olive oil and vinegar for 10-15 minutes, or until tender. Place onions in food processor or blender. Add rosemary, thyme and white pepper. Blend 1 minute. Place onion mixture in saucepan or Dutch oven. Add Sure-Jell and bring to a boil, stirring constantly. Add sugar and boil 1 minute more. Remove from heat, stir well and pour into sterile jars (about 6 pints) and seal.
Goat Cheese Marinated in Rosemary, Fennel, and Hot Red Pepper
a (1/2-pound) log of mild goat cheese, such as Montrachet, cut crosswise into 4 pieces, or four 2-ounce crottins
1 tbl fennel seeds crushed
1 tsp crushed dried hot red pepper flakes
6 rosemary sprigs up to 8
the zest of 1 lemon removed with a vegetable peeler
1/2 cups olive oil up to 1c. if needed
In a 1-pint jar with a tight-fitting lid combine the cheese with the fennel seeds, the red pepper flakes, the rosemary, and the lemon zest, pour enough of the oil over the mixture to cover the cheese completely, and let the cheese marinate, covered, and chilled, for at least 1 week and up to 4 weeks. Let the mixture come to room temperature before serving.