I made this pie last Thanksgiving and its really good! I make pies every Thanksgiving but this one is so good, its my new family heirloom recipe. I dont know why I didnt think of it sooner!
APPLE CIDER PIE
Crust:
1/4c. cold water
2 tsp. cider vinegar
2c. all purpose flour
1/3c. cold butter or regular stick margarine, cut into small pieces
1/4c. solid vegetable shortening or regular stick margarine
Filling:
3c. apple cider
3/4 c. granulated sugar
1/4c. all purpose flour
1/2 tsp. ground cinnamon
1/8 tsp. ground mace or nutmeg
5 lg. Granny Smith or Braeburn apples (about 2 1/2lbs.)
3 lg. Golden Delicious or Cortland apples (about 1 1/2lbs.)
1 1/2 tsp. granulated sugar
Boil apple cider in heavy saucepan about 20min. or till reduced to 1/2c. Cool about 20min. (can be prepared up to 3 days ahead, covered and refrigerated.) To make crust in food processor, mix water and vinegar in 1c. measure. Process flour, butter and shortening with on/off turns until coarse crumbs form. With motor running, add water mixture. Process until dough just leaves sides of bowl.
To make crust by hand, mix water and vinegar in a 1c. measure. Put flour in a med. size bowl. Cut in butter and shortening with pastry blender or 2 knives till mixture resembles coarse crumbs. Stir in water mixture with fork till crumbs clump together into a dough. Gather dough into a ball , divide in half, flatten each half into a disk and wrap in wax paper. Refrigerate 45min. or till firm enough to roll.
Meanwhile, prepare filling. Mix sugar, flour, cinnamon and mace/nutmeg in a lg. bowl. Halve, core and peel apples. Cut each half into 1/2in. thick wedges, then cut wedges in half crosswise. Add to sugar mixture along with the reduced apple cider. Toss till evenly coated. Preheat oven to 425 degrees. Position rack in lowest part of oven. Have ready a 9in. pie plate.
On lightly floured surface with a lightly floured rolling pin, roll out half the dough to a 12 in. circle. Fit circle into pie plate. Spoon filling into pie shell, mounding it high in the center. Roll remaining dough into a 12 in. circle. Place over filling. Press edges together and roll up to form an even rim. Flute or crimp decoratively. Brush top with water, then sprinkle with the 1 1/2tsp. of sugar. Cut slits in top for steam to escape. Place pie on a cookie sheet to catch drips. Bake for 25min. Reduce oven temperature to 350degrees. Bake for 40-50 min. longer until crust is golden brown, apples are tender when pierced through a slit and juices bubble. Remove to wire rack. Serve warm or cool completely.
And while we are talking cider these sounded pretty good too. I like muffins that use whole wheat.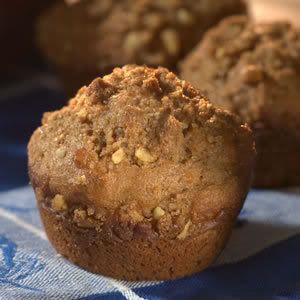 SPICED APPLE CIDER MUFFINS
Streusel
2 tablespoons packed light brown sugar
4 teaspoons whole-wheat flour
1/2 teaspoon ground cinnamon
1 tablespoon butter, cut into small pieces
2 tablespoons finely chopped walnuts (optional)
Muffins
1 cup whole-wheat flour
1 cup all-purpose flour
1 1/2 teaspoons baking powder
1/2 teaspoon baking soda
1/4 teaspoon salt
1 tablespoon ground cinnamon
1/2 teaspoon ground nutmeg
1 large egg
1/3 cup packed light brown sugar
1/2 cup apple butter, such as Smucker's
1/3 cup maple syrup
1/3 cup apple cider
1/3 cup low-fat plain yogurt
1/4 cup canola oil

1. Preheat oven to 400°F. Coat 12 muffin cups with cooking spray.
2. To prepare streusel: Mix brown sugar, whole-wheat flour and cinnamon in a small bowl. Cut in butter with a pastry blender or your fingers until the mixture resembles coarse crumbs. Stir in walnuts, if using.
3. To prepare muffins: Whisk whole-wheat flour, all-purpose flour, baking powder, baking soda, salt, cinnamon and nutmeg in a large bowl.
4. Whisk egg and brown sugar in a medium bowl until smooth. Whisk in apple butter, syrup, cider, yogurt and oil. Make a well in the dry ingredients; add the wet ingredients and stir with a rubber spatula until just combined. Scoop the batter into the prepared muffin cups (they'll be quite full). Sprinkle with the streusel.
5. Bake the muffins until the tops are golden brown and spring back when touched lightly, 15 to 25 minutes. Let cool in the pan for 5 minutes. Loosen edges and turn muffins out onto a wire rack to cool slightly before serving.