The weather has been cooler here the last day or so and my bf and my son both love chili. I found some organic beef rump on sale at the store so I decided it was time to make some. My lil grandson helped make this too. The cans you see in the picture he dumped in and added the chili mix too and stirred it . He thought he was so cool doing that lol. He left to go visit his mommy this weekend before it was done so I told him Id save him some for when he got back. I told him he could even take some to school for his lunch and his eyes got so big and he said COOL!! Amazing what lil things make them happy. (BTW hes eating his share of banana bread too, he loves it!) hehehe
HOMEMADE CHILI
3-4 lbs. beef stew meat or chuck or rump roast cut up into 1/2in. pieces
2 cans beef broth
1 sm. can chopped green chilies or 1c. green chili salsa
2 cans (15oz each) diced tomatoes
3-4 TB. chili mix or to taste (recipe follows)
1 big can Bush's pork and beans
A couple TB. of cornmeal or cornbread mix
Sprinkle meat with salt and pepper and a bit of oil and mix. I used olive oil, not alot because you will saute in more. Drizzle some olive oil in the bottom of the pot, just a couple tbspfuls. Brown in a lg. pot in batches, do not crowd so it will brown.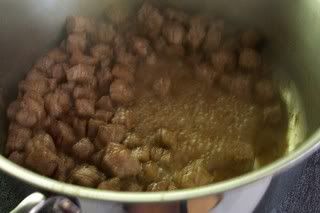 As it browns keep sauteing, juices will form like you see above. Saute till the juices dry up, this will help add more flavor to the chili by caramelizing the juices and making them brown and the meat will brown more too.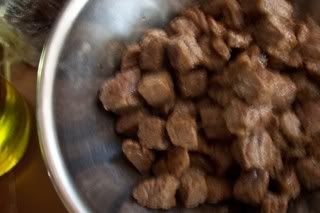 The beef should look like this. Then remove to a bowl and do the other batches the same way. I browned this in an 8qt. pot, the same one Ill be making the chili in.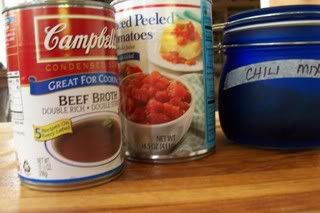 Add the broth, tomatoes, green chilies and chili mix and stir.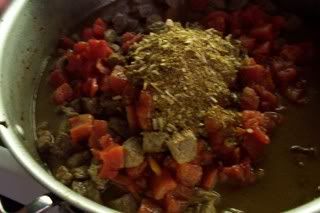 Cook until tender about 1 1/2hrs. uncovered. You want some evaporation so the juices will thicken a bit. When tender stir in the beans and taste. I do not add the chunk of pork that comes in them and I drain some of the liquid from them too before adding. Now stir in 3-4 TB. of cornmeal to thicken and continue to cook till its absorbed and chili is thick. How much depends on how thick you like your chili, this amt. makes a medium thickness. You can also use the same amt. from a cornbread mix if your making some to serve with it. If I don't have cornmeal on hand Ive done that and it comes out great.
You can top this with chopped onions, sour cream and cheddar and monterey jack cheese if you wish and serve it with a yummy honey cornbread too. My son just lovesssss this.
HOMEMADE CHILI MIX

2TB. chili powder
1TB. salt (or seasoned salt)
2TB. cumin
1TB. oregano
2TB. dried onion flakes
1TB. garlic powder
1/2-1 tsp. crushed dried red pepper or cayenne ( I use the lesser amt cuz I feed all ages with this)
Mix together and store in glass jar. In the picture above where you see a blue jar labeled chili mix..... I make this recipe X 3 to store in that jar so I have it on hand and don't have to make it all the time. I also use this with my Cajun spice mix I make to use as a rub on my ribs.