I had some banana hanging around getting reallllllly ripe. When I was sick I sent my son to the store for me and told him to get some things for my grandsons lunch too. He came home with this huge bunch of bananas I knew we weren't going to eat. So today I decided since its cooler outside and I need to use up a few things, I'd bake. I found this recipe for what sounds like a really yummy banana bread and of course I can never leave a recipe alone so I tweaked it. I had some applesauce I wanted to use up from dinner the other nite and I found this paste vanilla from Traders Joes that I wanted to try. Its sort of syrupy and thick not like the usual extract and has bits of the vanilla in it too like when you use whole pods. Your supposed to be able to use it just like regular extract only it would be much more flavorful since you have the bits too.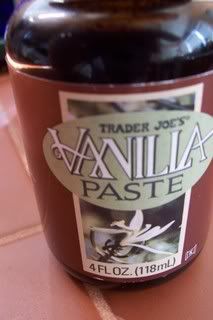 So here is the recipe as I found it and changes I made will be in parentheses. The guys in this house pronounced it yummy!
BANANA SOUR CREAM BREAD MAKES 4LOAVES

1/4 c. white sugar
1 tsp. ground cinnamon
3/4c. butter
3 c. white sugar (I substituted 1 c. for brown sugar)
3 eggs ( I used 4 because I added applesauce too)
6 very ripe mashed bananas
1 16 oz. container sour cream
(1 c. applesauce with cinnamon)
2 tsp. vanilla ( I used that new vanilla paste)
2 tsp. ground cinnamon
1/2 tsp. salt
3 tsp. baking soda
4 1/2c. all purpose flour
1 c. chopped walnuts (I used chopped pecans)
Preheat oven to 300 degrees. Grease 4 7x3in. pans. (I used 8x4in. pans) In a small bowl , stir together 1/4c. sugar with the 1 tsp. cinnamon. Dust pans lightly with the mixture.
In a large bowl, cream butter and 3 c. sugar.
Mix in mashed bananas, eggs, sour cream, vanilla and cinnamon.
Mix in salt, baking soda and flour.
Stir in nuts.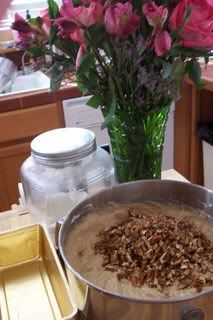 Divide into pans.
Bake 1hr. or till toothpick inserted in center comes out clean. Remove from pans and cool.
Its darker than what you expect for banana bread because of the brown sugar. I added that because I didnt have enough white sugar here. The bread is very moist tho. I do not see much point in dusting the pans with cinnamon sugar. I can only taste a bit on the edges not enough to me to warrent added extra sugar to a dish with quite a bit of it in already. Next time I think Ill skip it, considering theres plenty of cinnamon in it already. I also think I would add double the amt. of nuts in it as I dont think there is enough for 4 loaves for my taste. The men in this house just loved it tho and one took a whole loaf to share with the guys at work.