Well its that time of year where everything in the garden is bursting out and you try to figure out what to do with it all. I don't have a garden this year but I have had one almost every year for the last 35. I remember going on a trip once a few yrs back. I had two zucchini plants , that's all. When I came back and checked out my garden I found 3 HUGEEEEEEEEEE and I do mean huge zucchini. When I picked them to bring in the house I could barely carry all 3. They had to have been 3ft long and as fat as a cantaloupe around. I almost tossed them in the garbage. Then I thought no .....zucchini bread! So I took the first one, peeled it, shredded it to get it ready for zucchini bread. It made 10 loaves from that one zucchini!!! I sent some to work with my ex, and we ate some but I gave the rest away. How much of that stuff can you eat? I did end up tossing away the other zucchini considering I still had a few cups left of shredded from the first one that I froze. So in honor of that I thought Id post a few more kinds of zucchini bread types to help give you ideas to use it all up.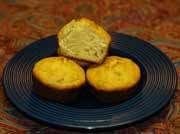 Zucchini Dill Muffins
1 1/2 cups flour
2 tablespoons granulated sugar
3 teaspoons baking powder
1/2 teaspoon salt
1 tsp. fresh minced dill, OR 1/2 teaspoon dill weed
1/4 cup milk
1/2 cup butter -- melted
2 large eggs
2/3 cup ricotta cheese
1/2 cup shredded zucchini

Heat oven to 400°. Grease muffin tins or line with 12 baking cups. Lightly spoon flour into measuring cup, level off. In large bowl, combine flour, sugar, baking powder, salt, and dill. Mix well. In medium bowl combine milk, butter, and eggs. Stir in ricotta cheese and zucchini, beat well. Add to dry ingredients, stirring until just moistened (batter will be stiff).Fill prepared muffin cups 2/3 full. Bake at 400° for 20-25 minutes or until golden brown. Remove from pan and serve warm with lots of fresh butter! These are great with a nice luncheon salad.
Carrot, zucchini and dill muffins
2 cups self-raising flour
1 teaspoon baking powder
2 tablespoons caster sugar
1/2 cup finely grated carrot
1/2 cup finely grated zucchini, squeezed between your hands to remove excess moisture
1/2 cup coarsely grated Swiss cheese
2 tablespoons dill, chopped
3/4 cup milk
1/2 cup extra light olive oil
2 eggs
2 teaspoons sea salt flakes

Preheat oven to 400°. Lightly grease a 12 x 1/3-cup capacity muffin pan. Sift flour and baking powder into a large bowl. Stir in sugar, carrot, zucchini, cheese and dill. Whisk milk, oil and eggs together in a jug. Add to dry ingredients. Use a large metal spoon to stir until just combined. Divide mixture evenly between muffin holes. Sprinkle tops with sea salt. Bake for 12 to 15 minutes or until a skewer inserted into the center of a muffin comes out clean. Stand for 5 minutes in pan before turning onto a wire rack. Serve warm or at room temperature. Makes 12
Zucchini-Lemon Muffins
2 c All-purpose flour
1 c Coarsely shredded zucchini
1 Egg
Vegetable cooking spray
Combine the first 6 ingredients in a bowl, and make a well in center of mixture. Combine zucchini, milk, oil, and egg; stir well. Add to flour mixture, stirring just until dry ingredients are moistened. Divide batter evenly among 12 muffin cups coated with cooking spray. Bake at 400 degrees for 20 minutes or until golden. Remove from pans immediately, and let cool on a wire rack. Yield: 1 dozen.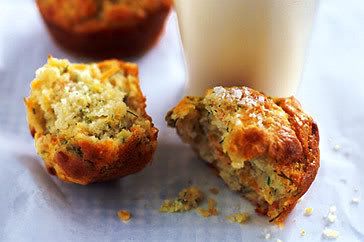 Zucchini Cranberry Muffins
2/3 tbsp. pure vanilla extract
1 (8-ounce) can crushed pineapple
1 1/2 cups whole cranberry sauce
Sift dry ingredients together. Beat eggs. Blend in sugar, oil and vanilla. Fold in zucchini, pineapple and cranberries. Add wet ingredients to dry. Mix just until blended. Fold in nuts/raisins. Pour into muffin cups and bake at 375 degrees for 20 to 25 minutes, or until a knife inserted in center of muffin comes out clean.
3 teaspoons vanilla extract
1 tsp. ground cinnamon (you can use up to a Tablespoon. It just depends how much cinnamon flavor you want)
1 pint fresh blueberries, coat with some flour before adding to mixture (can use frozen blueberries for this bread, cheaper and works just fine. Quickly mix in 1 tsp. of flour with the measured out blueberries before you fold them into the batter so they won't all sink to the bottom)
Preheat oven to 350° F. Lightly grease 4 mini-loaf pans. In a large bowl, beat together the eggs, oil, vanilla, and sugar. Fold in the zucchini. Beat in the flour, salt, baking powder, baking soda, and cinnamon. Gently fold in the blueberries. Transfer to the prepared mini ­loaf pans. Bake 1 hour, or until a knife inserted in the center of a loaf comes out clean. Cool 20 minutes in pans, then turn out onto wire racks to cool completely.
Do not eat the same day you bake it. It is much better if it is wrapped after it cools and then let sit on the counter for a day or two to mellow. Can also make one full loaf and then used the rest of the batter to make muffins. It freezes well too.
1 teaspoon vanilla extract
2-1/2 cups all-purpose flour
1/2 teaspoon ground cinnamon
1/4 cup miniature semisweet chocolate chips
In a large mixing bowl, cream the butter, oil and sugar until light and fluffy. Beat in the eggs, milk and vanilla. Combine the flour, cocoa, baking soda, salt and cinnamon; gradually add to creamed mixture. Fold in zucchini and chocolate chips. Fill greased or paper-lined muffin cups two-thirds full. Top with pecans. Bake at 375° for 20-25 minutes or until a toothpick inserted in muffin comes out clean. Cool for 10 minutes before removing from pans to wire racks to cool completely. Yield: about 2 dozen.