HERBED BATTER ROLLS

1 tablespoon active dry yeast
1 cup warm water
1/2 teaspoon sage
1/2 teaspoon dried tarragon
1/8 teaspoon ground nutmeg
2 tablespoons white sugar
1 teaspoon salt
1 egg
2 tablespoons butter, cut into small pieces
2 1/4 cups all-purpose flour, divided
In a large mixing bowl dissolve yeast in warm water. Add the sage, tarragon, nutmeg, sugar, salt, egg, butter or margarine and 1 cup of the flour. Using a wire whisk, beat until smooth. Stir in remaining 1 1/4 cups flour with a wooden spoon and beat until smooth. Scrape batter from sides of the bowl, cover with a damp cloth and let rise in a warm place for about 30 minutes or until doubled in volume. Deflate batter by Stirring with a wooden spoon.
Lightly grease one 8 cup muffin pan. Scoop batter into the prepared muffin pan. Fill each cup slightly more than 1/2 full; set aside in a warm place and let rise for about 15 to 20 minutes or until doubled. Preheat oven to 400 degrees F (200 degrees C). Bake in the preheated oven for 15 to 20 minutes or until golden. Serve warm.
LEMON TARRAGON CAKE
The surprise ingredient tarragon puts the 'wow' in this cake.
1 (18.25 ounce) package yellow cake mix
1 (3.5 ounce) package instant coconut cream pudding mix
1 teaspoon dried tarragon
1 cup lemon-lime flavored carbonated beverage
1/3 cup lemon juice
4 eggs
2/3 cup vegetable oil
Preheat oven to 350 degrees F (175 degrees C). Grease and flour a 10 inch Bundt pan. In a large bowl, stir together cake mix and pudding mix. Crumble the dried tarragon into a fine powder and mix with the cake and pudding mixture. Make a well in the center and pour in lemon-lime soda, lemon juice, eggs and oil. Beat on low speed until blended. Scrape bowl, and beat 4 minutes on medium speed. Pour batter into prepared pan. Bake in the preheated oven for 30 to 35 minutes, or until a toothpick inserted into the center of the cake comes out clean. Let cool in pan for 10 minutes, then turn out onto a wire rack and cool completely.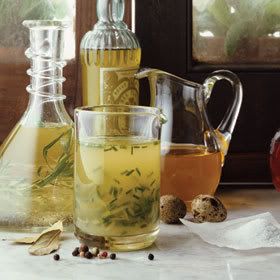 ***
Here are a couple Tarragon Vinegar recipes to make. Ive made this before and it keeps forever. I just put vinegar in a canning jar or nice bottle and add lots of tarragon to it. The tarragon keeps well in it too so you can use it in cooking if you wish. I let it sit in my pantry at least 6wks before I use it.
TARRAGON VINEGAR
Makes: 2.5 cups
2 1/2 cups white wine or cider vinegar
2 stems tarragon, plus extra for decoration (optional)
1 clove garlic, peeled and halved
Bring vinegar to boiling point in a pan. Put tarragon and garlic into a clean, sterilized bottle or jar. Pour over vinegar. Screw lid down tightly. Leave in a sunny place for 2-3 weeks. Strain, discarding herbs, into a clean, sterilized bottle or jar, adding extra tarragon stems for decoration if desired. Seal and store in a cool, dry, dark place.
TARRAGON VINEGAR II
You need:
Good quality white wine vinegar
Plenty of fresh tarragon leaves
Place plenty of fresh tarragon leaves, stripped from the stalks, into a wide-mouthed jar. Cover with good quality white wine vinegar, cover the jar lightly and leave on a warm window sill - or similar spot - for a couple of weeks. (I sometimes leave mine for months!)
Strain off the vinegar, pour into a pretty bottle with a few fresh sprigs of tarragon and you have a nice gift for a hostess or a useful addition to your own kitchen cupboard.f you are desperate, substitute a couple of tablespoons of good quality dried tarragon for the fresh leaves. Serving Suggestion: This will keep for ages in a dark cool place in the pantry.
LEMON-TARRAGON VINEGAR
4 cups white vinegar
1/4 cup sugar
2 cups tarragon, loosely packed crushed to release oils
2 lemons, peel of,pith removed
Combine vinegar and sugar in a heat and simmer till sugar is dissolved. Put into 2 quart glass jar. Add tarragon and lemon. I use the jars with a rubber seal. Close jar and store in dark cool place for 1-4 weeks. Give a shake every couple days. When desired strength is reached strain through layers of cheesecloth. Heat vinegar to 180 degrees. Ladle into hot sterile jars, leaving 1/4 inch headspace add fresh sprig of tarragon and lemon peel. Place 2 piece caps on. Process 10 minutes in boiling water canner. Nice to gift wrap and put into a fruit basket. This takes 1-4 weeks to infuse flavors. Can be doubled.