SAUCE BEARNAISE
1 Tbsp. shallots, chopped
1 sprig of thyme
½ bay leaf
3 Tbsp. tarragon, chopped
2 Tbsp. chervil, chopped
salt and pepper
¼ cup each vinegar and red wine
2 eggs, beaten lightly with 1 Tbsp. water
¼ cup butter, cut into 1 cm. pieces
1½ tsp. lemon juice (optional) pinch of hot paprika (optional)
In an enamel saucepan combine the shallots, thyme, bay leaf, 2 Tbsp. of the tarragon and 1 Tbsp. of the chervil. Add a pinch each of salt and pepper, pour over the vinegar and wine and bring to a boil. Continue to boil until reduced by two-thirds. Let cool.
To the saucepan add the eggs and, over a low flame, beat until the eggs begin to thicken. Immediately begin to add the butter, in small pieces, whisking constantly. Correct the seasoning with salt and pepper and, if desired, lemon juice and hot paprika. Strain the sauce and add the remaining tarragon and chervil. Use at once or keep warm in a double boiler.
***
This is the classic sauce that is great on grilled steaks or salmon or vegetables.
TARRAGON LOBSTER SALAD
This lobster salad is wonderful on its own—but piled onto a hot dog bun it becomes a perfect lobster roll.
4 (1 1/2-lb) live lobsters
1/4 cup finely chopped shallot (1 large)
3 tablespoons fresh lemon juice
1/3 cup mayonnaise
2 tablespoons finely chopped fresh tarragon
Accompaniment (optional): hot dog buns (preferably top-split), buttered and grilled or toasted if desired
Plunge 2 live lobsters headfirst into an 8-quart pot of boiling salted water. Loosely cover pot and cook lobsters over moderately high heat 9 minutes from time they enter water, then transfer with tongs to sink to cool. Return water to a boil and cook remaining 2 lobsters in same manner.
While lobsters are cooking, combine shallot, lemon juice, and 1/2 teaspoon salt in a large bowl and let stand at room temperature 30 minutes.
When lobsters are cool, remove meat from claws, joints, and tails. Discard tomalley, any roe, and shells (or save for another use). Cut meat into 1/2-inch pieces.
Whisk mayonnaise, tarragon, and 1/4teaspoon black pepper into shallot mixture. Add lobster meat and toss gently to coat. Makes 4-6 servings.
Cooks' notes: • Lobsters may be cooked and shelled 1 day ahead and chilled, covered. • Lobster salad may be made 1 day ahead and chilled, covered.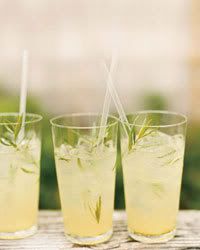 TARRAGON LEMONADE
Give it a try with other summer herbs, too, like fresh mint.
10 cups water
2 1/4 cups sugar
17 tarragon sprigs
6 cups fresh lemon juice, strained (from about 40 lemons), plus 12 thin lemon slices for garnish
Salt
Ice
In a medium saucepan, combine 4 cups of water with the sugar and bring to a boil, stirring to dissolve the sugar. Simmer over moderately high heat until reduced to 3 1/4 cups, about 25 minutes. Remove from the heat and add 5 of the tarragon sprigs. Let stand, stirring often, until cooled to room temperature, about 30 minutes. Discard the tarragon sprigs. In a large glass pitcher, combine the remaining 6 cups of water with the tarragon syrup and fresh lemon juice. Add a pinch of salt, stirring until it dissolves. Serve the tarragon lemonade over ice, garnished with the lemon slices and the remaining 12 tarragon sprigs. Serves 12. ***While this recipe would probably require you to have lots of lemons on hand why not just make the syrup and add it to bottled lemon juice.
HERBED GORGONZOLA CHEESECAKE
Serve this herbed cheesecakes like a cheese ball at your next party. Great for tailgate parties, picnics, and family gatherings. Suitable for a large crowd.
Crust:
2 cups crackers, crushed
1/4 cup unsalted butter, melted
Filling:
4 packages (each 8 ounces) cream cheese, softened
3 eggs
1 Tbsp fresh lemon juice
1/4 tsp salt
2 Tbsp chopped fresh tarragon
1 tsp chopped fresh dill
1 tsp dried onion flakes
8 ounces Gorgonzola cheese, crumbled
Preheat oven to 325 degrees F./160 degrees C. Prepare pan: 6-inch (15 cm) cheesecake or springform pan with 3-inch (7.5 cm) sides, lined with parchment paper.
Crust: In medium bowl, combine crushed crackers and butter. Press into bottom of cheesecake pan and freeze.
Filling: In a large mixer bowl, beat cream cheese on medium-high speed for 3 minutes. Add eggs, one at a time, beating after each addition. Mix in lemon juice, salt, tarragon, dill, and onion flakes. With a rubber spatula, fold in Gorgonzola cheese. Pour batter over frozen crust. Bake in preheated oven for 50 to 65 minutes or until the top is light brown and the center has a slight jiggle to it. Cool on a rack for 2 hours. Cover with plastic wrap and refrigerate for at least 6 hours before serving. Serve warm or cold with crackers or party toasts. To serve warm as an appetizer, wrap the cheesecake in foil and place in a preheated 350-degrees F. (180 degrees C.) oven for 10 minutes to heat through. Do not microwave; it will toughen the cheesecake.
Tips: Use your favorite salted or unsalted crackers for the crust.
Variation: If substituting dried herbs, use half of what the recipe calls for. Yield: 18 to 20 servings
HERB DRESSING
Tarragon, chervil, parsley, and watercress flavor a creamy dressing based on sour cream and mayonnaise. Use as a topping for stuffed eggs or salad greens.
2 tablespoon finely chopped fresh tarragon (or 1 teaspoon dried tarragon)
2 tablespoon finely chopped fresh chervil
2 tablespoon finely chopped parsley
2 tablespoon finely chopped watercress
1/2 garlic clove, minced
1/2 cup sour cream
1/2 cup mayonnaise, preferably homemade
1 teaspoon lemon juice
Salt and freshly ground pepper
Combine tarragon, chervil, parsley, watercress, and garlic in a mixing bowl, add the sour cream, mayonnaise, lemon juice, and salt and pepper to taste, and blend thoroughly. Makes about 1-1/4 cups of dressing . Yield: 6 servings