I got this joke this morning in the mail and now it seems to have inspired a whole blog! After the joke are a few recipes for your grill that Ive used..............
Definition of Outdoor Barbecuing
It's the only type of cooking a "real" man will do: When a man volunteers to do such cooking, the following chain of events is put into motion.
(1) The woman goes to the store.
(2) The woman fixes the salad, vegetables, and dessert.
(3) The woman prepares the meat for cooking, places it on a tray along with the
necessary cooking utensils, and takes it to the man, who is lounging beside the grill, drinking a beer.
(4) The man places the meat on the grill.
(5) The woman goes inside to set the table and check the vegetables.
(6) The woman comes out to tell the man that the meat is burning.
(7) The man takes the meat off the grill and hands it to the woman.
(8) The woman prepares the plates and brings them to the table.
(9) After eating, the woman clears the table and does the dishes.
(10) The man asks the woman how she enjoyed "her night off." And, upon seeing her annoyed reaction, concludes that there's just no pleasing some women.
BARBECUED FLANK STEAK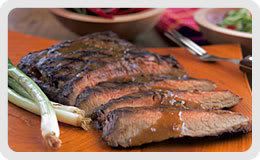 This is a marinade we used to use at the restaurant for flank steak grilled. It makes alot but I cut it down to about 1/4 of this when I make it for home, you can just eyeball it even. Its the flavors that count not the amt. I use this to marinate all kinds of steak and beef for the grill not just flank steaks.
4oz. soy sauce
4oz. sesame oil
1tb. garlic, chopped
1tb. ground cumin
Red pepper (flakes, cayenne, etc. anything you have) to taste.
white wine vinegar
This marinade is for about 10-12lbs of meat. I marinate early in the morning and by dinner time they are perfect to grill.
Sesame oil is strong so if you dont have much on hand a lil bit goes a long way but it really does add to the taste here. Red pepper is to taste, I use about 1/2tsp. of flakes, for us and theres no heat really just flavor.
White wine vinegar helps tenderize any meat. You can use that in any marinade but dont use alot.....again for just us I used about a tb. in this marinade. I make about 1/4 of this for us for one nite.
LAMB SKEWERS FOR BARBEQUE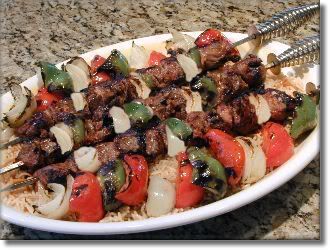 Marinade ingredients....
soy sauce
oil
ground cumin
white wine
thyme
Cut lamb into 1in. chunks and thread on skewers. Marinate for several hrs. then grill. These are yummy and sometimes I cut up onions, peppers, and mushrooms to put on the skewers and marinate too. Served with rice and a big salad its delish!