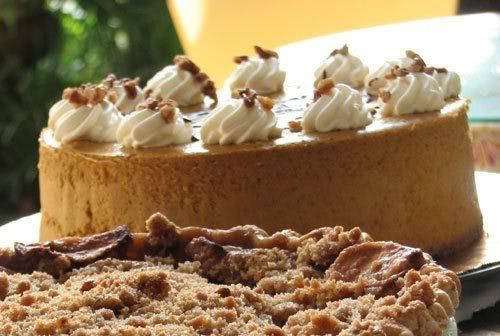 I love Junior League cookbooks. They are usually well tested recipes compiled by the Junior Leagues themselves ,of course to raise money. But many of these have become award winners.
I chose this one because altho its an older book, many of the recipes are typically Californian and awesome.This is one of my favorite recipes from this book. Ive made it many, many times.
PUMPKIN CHEESECAKE MAKES
1 9in. cake
Crust:
3/4 c.graham cracker crumbs(about 12 single crackers)
1/2 c. ground pecans
1/4 c. brown sugar
1/4 c. granulated sugar
1/4 c. butter, melted
Filling:
3/4 c. granulated sugar
3/4 c. pumpkin puree
3 egg yolks
1 1/2 tsp. ground cinnamon
1/2 tsp. ground mace
1/2 tsp. ground ginger
1/2 tsp. salt
1 1/2 lbs. cream cheese, softened
6 tb. granulated sugar
1 egg plus 1 yolk
2 tb. whipping cream
1 tb. sifted cornstarch
1/2 tsp. vanilla extract
1/2 tsp. lemon extract
Whipped cream and whole pecans for garnish
To prepare Crust: Combine all ingredients and mix well, coating crumbs completely with butter. Pat crumb mixture firmly into bottom of a 9in. springform pan. Place in freezer while preparing filling. Preheat oven to 350 degrees.
To prepare Filling: Mix 3/4c. sugar, pumpkin puree, 3 egg yolks, cinnamon, mace, ginger and salt in a bowl. Set aside. With an electric mixer, beat cream cheese and 6 tb. sugar till smooth. Add the egg plus egg yolk and the whipping cream. Mix again till smooth. Add cornstarch and blend well. Add vanilla and lemon extracts. Mix again till very smooth. Add spiced pumpkin puree to cream cheese mixture. Mix until no traces of white remain. (The smooth texture of this cheesecake depends on the thorough mixing.)
Pour filling over crumb crust in springform pan. Bake 45 min., or until sides have risen. The center will be somewhat soft. Remove from oven. Cool to rm. temp., then refrigerate until thoroughly chilled. Run knife around edge of pan and release the sides. Remove cheesecake from pan bottom. Garnish with whipped cream rosettes and pecans.