Fall is on its way ...today its chilly and raining. Its the first day in months I'm wearing long pants and a sweater! And I love it! Its been way too hot this summer. So last nite I made some Clam Chowder and I'm having some for lunch as I type this too. So I thought I'd post it on here today for those who have never made it. This is my version from a recipe I found many yrs ago in a cookbook I have.
I know there's pros and cons of clam chowder all over......some like with bacon some don't. We do and I don't like alot of potatoes too. I hate going to restaurants and that's about all that's in that so called chowder. I want to taste the clams! So here's my version and last nite for the first time I added celery because I realized I always liked the ones that have it when I eat out.
SEANYMPH'S CLAM CHOWDER Makes about 8 servings
3 slices bacon
1 lg. onion, chopped (1c.)
5-6 tb. flour
1 tsp. salt
1/4 tsp. pepper
4c. milk or 1 qt. fat free half and half
4 cans (about 6 1/2-7oz. each) minced clams
2 bottles clam juice
4 med. size potatoes, peeled and cut into 1/2in. dice
2 stalks celery, diced
2tb. chopped parsley
1/2tsp. thyme

Cook bacon in lg. heavy pot about 8qt. size, till crisp. Remove with slotted spoon; drain on paper towels, crumble and reserve. (I cut mine up first when I do this, its quicker).
Add onion and celery to bacon fat in pan; saute till tender, about 3min. Stir in flour, salt and pepper, and thyme; cook 1min.
Whisk in milk or half and half ( I love it better with half and half but I don't always have it on hand here) until smooth. Cook, stirring constantly till thickened and bubbly: lower heat to simmer.
Drain liquid from clams into a med. size pan; reserve clams. Add bottled clam juice and potatoes. Simmer till potatoes are tender, about 15 min.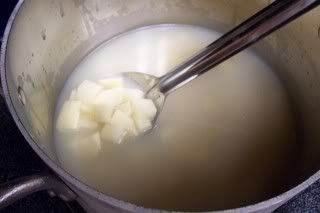 Add potatoes and their cooking liquid to the milk mixture; heat just till bubbly. Add clams; heat 1 min. more . Sprinkle with parsley and bacon.
***
If you wish to substitute fresh clams for canned, buy the large chowder clams (you will need about a qt.) Have them shucked and reserve the liquor. Strain and measure the liquor (you will need 1 1/2c.) If the measure is short, add bottled clam juice. Follow the recipe as for canned clams.
Since I rarely can find clams around here I use canned. Its quicker too and I can keep them on hand for days like this when I want to make it and its icky out. If you can get fresh tho go for it, I would.