I made Stuffed Peppers the other nite so I thought Id post them here for you. I only made 3 peppers cut in half because there are only two of us here. I put the other half in the freezer for another day .
STUFFED PEPPERS Makes 3 hearty servings or 6 smaller ones
1 1/4lb of ground beef
1 small onion, finely chopped
2 cloves garlic, minced
2 eggs
3tb. fresh chopped parsley
1 tsp. dried thyme
dash of cayenne
salt and pepper
1 c. regular rice, cooked and cooled
3 lg. green peppers, sliced in half, seeded and cored
1 jar Classico tomato and basil sauce
Parmesan cheese
Heat oven to 350 degrees.
First cook your rice so its cooled when you use it for the meat mix. I use one cup regular long grain rice and then cook it. There's more than I need for the mix but we like to eat it on the side too with extra sauce. You can use any rice, my mom uses Minute rice but I hate that fake stuff.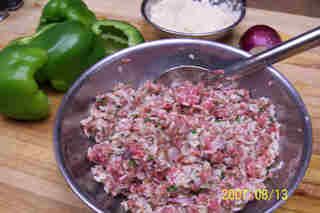 Next mix all ingredients in a bowl (except the peppers). Add about half that rice or more depending on how much rice you would like. I like more meat than rice. Stuff each pepper half with the mix and put in a baking dish.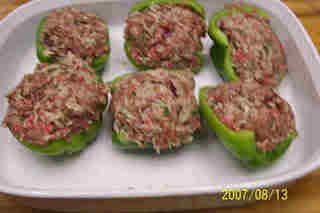 Top with jarred sauce. Add about 1/4 of the empty jar filled with water to the pan too. The sauce will thicken as it cooks but its too thick to start with. Top with some grated Parmesan cheese.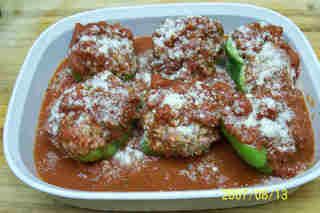 Bake for about an hr or till peppers are tender basting a couple times with the sauce. You can serve one pepper with other vegetables and the extra rice or just that with the rice. Sometimes we just have two halves and nothing else after all you have meat, veggies and rice there too. A nice crusty bread and your done.