I got the latest issue of Country Living and it has all fall things in it. I stumbled across a pull out recipe booklet in there and saw those brownies you see in the picture. I HAVE TO try these!!! I love anything pumpkin and I have an old blog when I first got here that has pumpkin lattes and pumpkin bars on it. I love this time of year when Starbucks makes their Pumpkin lattes and HAVE TO have them. But when I cant I use the recipe from my blog or I buy Coffeemate Pumpkin Spice creamer and top it with a sprinkling of pumpkin spice. Its a good substitute. So since fall is on its way I thought Id post this recipe for you along with some pumpkin butter recipes for those who like to make their own. A good jarred one would work too.
CHEESECAKE BROWNIES MAKES 3 DOZEN

1 1/2C. butter (3 sticks)
3/4 lb. bittersweet chocolate, chopped
8 lg. eggs
1 1/2c.dark brown sugar
4 tsp. vanilla extract
1 1/2 tsp. salt
2 1/4c. flour
3/4c. cocoa
1 lb. cream cheese, softened
2 tb. cornstarch
1 c. apricot jam
1 c. pumpkin butter

Heat oven to 350 degrees. Line a baking pan with parchment paper and lightly butter. (They don't say what size pan but from the looks of the brownies I think its more like a sheet pan with a lip around it, they don't look very thick)
Melt the butter and chocolate. Whisk 6 eggs, brown sugar, and 1 1/2c.sugar together. Stir in 3 tb. vanilla, salt, melted chocolate, flour and cocoa. Pour into prepared pan. Beat cream cheese using a mixer on medium speed till fluffy. Add the remaining 2 eggs, 1/2c sugar, 1tsp. vanilla and the cornstarch; beat till smooth and spread over the chocolate batter. Combine jam and pumpkin butter. Drop in spoonfuls onto cream cheese and draw swirls using a knife. Bake till center tests clean---about 40 min. Cool and punch out shapes using Halloween themed cutters.
Frosting Alternatives
: In place of pumpkin butter, swirl peanut butter, apple butter or raspberry jam into the cheesecake topping. Or frost with icing.
Mix-ins:
Stir in chocolate or peanut butter chips into the batter before baking. Or add chopped nuts such as walnuts, pecans or hazelnuts.
Shapes:
Instead of using themed cutters, slice the brownies into triangles. First cut them into squares, then cut each square on the diagonal.
Heres another that my boyfriend just loves, I pack them in his lunch. Try using the pumpkin butter the same way on these only swirl it in the frosting. YUM!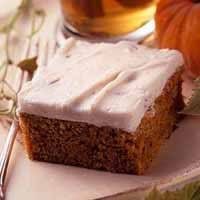 PUMPKIN BARS MAKES 48 LG OR 24 SM BARS

Bars:
4 eggs
1 2/3 cups granulated sugar
1 cup vegetable oil
15-ounce can pumpkin
2 cups sifted all-purpose flour
2 teaspoons baking powder
2 teaspoons ground cinnamon
1/4 teaspoon ground cloves
1 teaspoon salt
1 teaspoon baking soda
Icing:
8-ounce package cream cheese, softened
1/2 cup butter or margarine, softened
2 cups sifted confectioners' sugar
1 teaspoon vanilla extract

Preheat the oven to 350 degrees F. Using an electric mixer at medium speed, combine the eggs, sugar, oil and pumpkin until light and fluffy. Stir together the flour, baking powder, cinnamon, salt and baking soda. Add the dry
ingredients to the pumpkin mixture and mix at low speed until thoroughly combined and the batter is smooth. Spread the batter into a greased 13 by 10-inch baking pan. Bake for 30 minutes. Let cool completely before frosting. Cut into bars.
To make the icing: Combine the cream cheese and butter in a medium bowl with an electric mixer until smooth. Add the sugar and mix at low speed until combined. Stir in the vanilla and mix again. Spread on cooled pumpkin bars. Yield: 48 small bars or 24 larger bars I didnt cut into bars, I frosted in the pan and figured we would cut them as we need them. Easy to make tho.
Spiced Pecan & Pumpkin Butter
If you have a fresh "pie" or sugar pumpkin—not a jack o' lantern variety, which will be both watery and stringy after cooking-prepare it by paring, cubing, and steaming until very tender (this can be done in a covered casserole in the oven), then pushing the flesh through a sieve or the fine disk of a food mill. If the puréed pumpkin is too moist—which it is if liquid quickly seeps from a sample spooned onto a plate—line a colander with cheesecloth and drain the purée for a hour or so. To make enough purée for this recipe, start with a good-sized pumpkin, say 5 pounds.
Hard-fleshed winter squash (Hubbard, etc.) can be used instead of pumpkin; prepare it in the same way.
Zest (outer peel only, no white pith) of 1 orange, or zest of 1/2 orange and 1/2 lemon, removed in wide strips with a swivel peeler
1 large can (29 ounces) solid-pack pumpkin plus 1/2 cup water, or 3-1/2 to 4 cups pumpkin purée prepared from scratch (see the headnote)
2 cups (packed) light brown sugar or 1-1/2 cups (packed) light brown sugar
1/2 cup mild honey or light corn syrup
3 tablespoons strained fresh orange juice
3 tablespoons strained fresh lemon juice
1-1/2 teaspoons ground cinnamon
1/2 teaspoons salt
1/4 teaspoon ground allspice
1/4 teaspoon ground ginger
Pinch of ground cloves
1/3 cup pecans or walnuts, lightly toasted and grated or very finely chopped
Makes about 5 cups
1. Simmer the orange zest in 2 cups water in a sauce pan for 10 minutes, then drain it and mince it to a fine pulp. Measure out 1 tablespoon and reserve.
2. Combine in a heavy-bottomed stainless-steel or other nonreactive saucepan the pumpkin (and water, if canned pumpkin is used), orange zest, sugar, orange juice, lemon juice, cinnamon, salt, allspice ginger, and cloves. Bring to a boil over medium-high heat, stirring constantly; lower the heat and simmer the mixture, stirring it very often with a wooden spatula, until it has become very thick, about 15 minutes. Sample the butter and add a little more of any or all of the spices, if you like (remember, the flavors will blossom in storage). Add more sweetening if your taste buds request it.
3. Stir in the nuts and continue to cook for another 2 or 3 minutes. Ladle the boiling-hot pumpkin butter into clean, hot half-pint canning jars, leaving 1/4 inch of headspace. Seal the jars with new 2-piece canning lids according to manufacturer's instructions. Process the jars for 10 minutes in a boiling-water bath. Cool, label, and store for up to a year a cool cupboard.
Pumpkin Butter
3 cups cooked, mashed, or canned pumpkin
2 cups sugar
1/2 t ground cinnamon
1/4 t ground cloves
1/2 t lemon juice
Combine all ingredients in a medium saucepan; stir well. Bring to a boil; reduce heat, and simmer, uncovered for 30 minutes until mixture is smooth and thickened. Quickly pour pumpkin butter mixture into hot jars, filling to 1/4 inch from top. Wipe jar rims clean. Place lids with bands on and process in a boiling water bath 15 minutes. Yield:4 half pints.
These recipes say to can it but Ive found out this about it......so its up to you once you make it how you want to store it......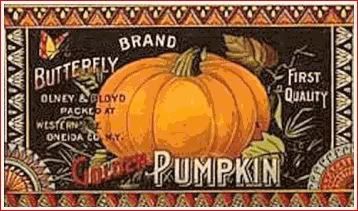 May I Can Pumpkin Butter?

Canning pumpkin butter or mashed or pureed pumpkin is NOT recommended.
Home canning is not recommended for pumpkin butter or any mashed or pureed pumpkin or winter squash. Pumpkin is a low acid vegetable and requires special attention to preparation and processing.
While pumpkin butters and pumpkin preserves are popular, they cannot be safely canned for room temperature storage.
Freeze pumpkin puree and pumpkin butter instead.
To freeze pumpkin puree. Select full-colored mature pumpkin with fine texture. Wash, cut into cooking-size sections and remove seeds. Cook until soft in boiling water, in steam, in a pressure cooker, or in an oven. When soft, remove pulp from rind and mash. To cool, place pan containing pumpkin in cold water and stir occasionally. Pack into rigid containers leaving ½-inch headspace, and freeze.