CAULIFLOWER AND BROCCOLI SALAD
2 heads broccoli, chopped
1 head cauliflower, chopped
3/4c. dried roasted peanuts (lightly salted)
3/4c. raisins (soak in water 5min.)
8 strips bacon, cooked and crumbled
1c. mayonnaise
1/2c. sugar
2tb white wine vinegar
Mix together mayonnaise, sugar and vinegar, set aside. Mix rest of ingredients together. Add mayonnaise dressing just before serving.
Whats really nice about this is the veggies are not cooked so the salad is so crunchy and fresh.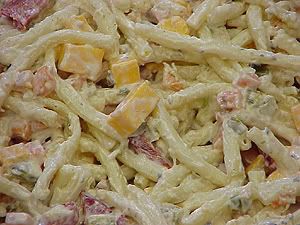 MACARONI SALAD serves 12
1lb. cooked small elbow macaroni
1c. frozen peas
3 stalks celery,chopped
3 green onions, chopped
2 tb. parsley, chopped
1/2 green pepper, 1/2 red pepper, chopped
1/2lb. shredded Cheddar cheese
DRESSING:
2c. mayonnaise
1c. sour cream
Salt and pepper
Garnish with chopped black olives, red peppers and peas.
Mix all ingredients together and chill.
I never really liked Macaroni salad until I had this. All these things add so much flavor to the salad.