Now onto some recipes to give you ideas but you could use Lovage anywhere you would use celery or parsley. I love to add it to my soups. It seems to give them a bit more body too.
APPLE LOVAGE CHUTNEY
6 cups apples peeled cored and chopped
1 cup lovage fresh
1 medium red bell pepper cored, seeded and chopped
1 medium tomato peeled and chopped
1 medium tomato green, peeled and chopped
1 medium onion peeled and chopped
3 cloves garlic
1 cup golden raisins
1/4 cup ginger root peeled and minced
1 cup brown sugar, light packed
1 cup white wine vinegar
1 tablespoon mustard seeds
1 teaspoon celery seeds

Combine all ingredients in non-reactive pan.Bring to boil over med-high heat, stirring constantly.Reduce heat to med-low and simmer, uncovered, stirring frequently, for 45mins, or until thickened.Prepare jars, lids and boiling water bath.Fill jars with hot mixture, leaving 1/4 inch head space. Wipe rims with clean towel and attach lids securely.Place jars in boiling water bath, and when the water returns to the boil, process for 15 min. Prep: 20 Cook: 60 Total: 80 Yield: 6 half-pints

CORN ON THE COB WITH LOVAGE BUTTER
4 husked ears of corn on the cob
4 tablespoons of butter
1 tablespoon of shreded Lovage
Salt & Pepper to taste

Steam or boil the corn until cooked through. Melt the butter in a pan and add the salt, pepper, and Lovage. Heat gently until Lovage is tender, 3-5 minutes. Pour over corn and serve hot.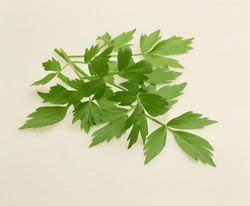 PEAS AND CARROTS WITH LOVAGE
1 pound of fresh or frozen peas
1 1/2 pounds of baby carrots - sliced
2 tablespoons of chopped Lovage
3 tablespoons of mayonnaise
3 tablespoons of regular yogurt
1 teaspoon of mustard

Combine the peas and carrots and steam for 10-15 minutes. Set aside. Mix the other ingredients thoroughly, then add the peas and carrots. Place in the refrigerator and allow to cool completely, and serve as a cool and refreshing side dish.
Lovage Butter Ingredients
:
4 tablespoons of butter
1 tablespoon of minced lovage
Salt & Pepper to taste

Melt the butter in a small pan and add the salt, pepper, and lovage. Heat gently for 3-5 minutes. Serve over vegetables.
6 large eggs
3 green onions thinly sliced
2 tsp. minced lovage
2 tsp. minced parsley
1 tablespoon snipped chives
1 cup light or regular mayonnaise
to taste salt and pepper (optional)

Hard boil the eggs, them place in a bowl of cold water to cool. Peel them, place in bowl and mash. Add the green onions and herbs, then add chives, mayonnaise and mustard. Season with salt and pepper. Serve on bread or on a bed of lettuce.
2 Tbsp. olive oil
1 onion, chopped
3 cups potatoes, peeled and cubed
3 cups water
Approx. 1 1/4 cups milk
3 Tbsp. minced fresh lovage plus garnish
salt and black pepper to taste
Heat the oil in a large saucepan and add the onions and potatoes. Cook over low heat for 10 minutes. Add 3 cups of water and continue simmering until the potatoes are tender. Remove from the heat and allow to cool slightly. Puree the cooled mixture in a food processor or blender. Place into a clean pan and stir in the lovage and milk slowly, stopping when you feel it's the right thickness. Heat through, and serve with a garnish lovage leaves. Makes 4 servings.

You will need: 1 quart cider vinegar 2 large sprigs lovage Place into a bottle or jar with a lid. Keep in a cool, dark place for 3-4 weeks. Use in dressings, or stews.
10-lovage leaves
2 shallots
1-2 tb madagascar pepper
Olive oil

Rinse the lovage leaves and chop the shallots finely. Put lovage, onions and pepper in a jar and pour over the oil. Let the oil seep for 3-4 days. The oil is particularly good when frying fish and pork, but it can also be used in marinades, dressings etc.
HALIBUT WITH APPLE, LEEK and LOVAGE RAGOUT
Leek, 1 large or 2 medium or 3-4 small
Butter, 1 tablespoon
Dry white wine 1/2 cup
Tart apple (I use granny smith) 1 large or 2 small
Apple cider or juice., 3/4 cup
Lovage fresh, chopped 2 tablespoons
Vinegar (mild and pale - white wine, sherry, rice) 1 tablespoon
Salt 1/4 teaspoon
Pepper to taste
Halibut (or other whitefish) 1/2 - 3/4 pound
Clean and julienne just the white part of the leek . (Save the green part of the leek for another use.) Melt the butter in a saucepan over medium heat. Add the leeks and cook, stirring frequently, until they soften and start to brown, about 10-15 minutes. Add the white wine and simmer until the liquid is absorbed. Add the apple cider and continue cooking until liquid is reduced to about 25% of initial volume. (This is usually about the time the tops of the leeks are exposed above the liquid.) Add the diced apples,lovage, vinegar, salt and a grind or two of pepper and cook, stirring often, for another minute. Remove from heat. (You can prepare this ahead to the point and store the ragout in the refrigerator for up to 2 days.) Cut fish into individual portions and place in a single layer in a baking dish. Pour ragout over the top of the fish and cover the dish with a lid (or parchment) and bake in a preheated 425° oven until the fish is firm and milky, the center is barely translucent and the flesh flakes with a fork, about 10-15 minutes. Note: Can make this with pork chops, brown one side of the chop on the stove before baking it in the oven as described for the fish.